Patient Care |

Enhanced Recovery
---
Enhanced Recovery Concepts
Enhanced recovery is also known as fast track surgery, rapid or accelerated surgery and was initially pioneered in Denmark. The objective of Enhanced Recovery is to apply evidence-based protocols to ensure safe and rapid recovery following major surgery. Frequently, this involves a multi-modality approach in the preoperative, intraoperative and post-operative workup of patients. ER requires that the patient is in the best possible condition for surgery, has the best possible management after their operation and experiences the best post-operative rehabilitation
Patients Undergoing Liver Surgery (Exclusions)
Patients undergoing resection of hilar cholangiocarcinomas, extended hepatectomy or major hepatic resections in patients with underlying liver dysfunction represent exclusions to ERP. These patients are at a significant risk of derangement of their liver function which may persist for some time following surgery.
Patients Undergoing Pancreatic Surgery (Exclusions)
Patients undergoing drainage procedures, segmental resection or total pancreatectomy (+/- islets) for chronic pancreatitis will not be included in ERP. These patients may suffer problems with pain control following surgery which may interfere with rapid track discharge.
Enhanced recovery has resulted in median reduction in length of stay by 4 days for patients undergoing major pancreatic resections and 3 days for patients undergoing liver resections. These improvements in length of stay have resulted in patients being returned home to their families much earlier.
Patients are contacted at home by our nurse specialists within 2 weeks of their discharge to ensure that their post-operative course is satisfactory at home.
Please find below typical pathways for patients undergoing liver and pancreatic surgery.
Please note that these post-operative pathways may change / differ according to a number of different factors which will be assessed by the surgical team.
Robotic Surgery in HPB
From January 2015, the Leicester HPB unit will be rolling out its robotic programme for a number of selected procedures (and patients). Leicester will be one of the few centres worldwide who will be undertaking this type of surgical treatment. Not all patients will be suitable and you will be informed by your consultant if such a procedure is suitable for you.
The Da VinciTM robot is a pioneering surgical treatment which will enable keyhole surgery for liver and pancreatic cancers which could not normally be performed by this approach. Leicester is one of the very few centres world-wide who will be undertaking this type of surgery for liver and pancreatic conditions. It is expected the robotic approach will result in better recovery from major procedures, less blood loss and shorter hospital stays. This will enable patients having surgical treatment for cancer to spend more time with their family and be ready for any further treatment much sooner.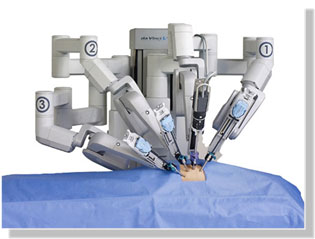 Enhanced Recovery in Pancreatic Surgery 
Summary of elements of a HPB Enhanced Recovery Pathway